Recipe: How to Make Granola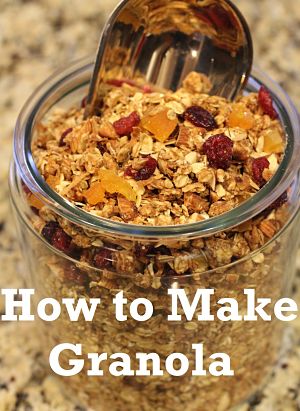 My blogging friend JJ has me hooked on this granola recipe.  I've made in 3 times in 3 weeks.  Yum-o-licious does not even begin to describe it.  Not even close.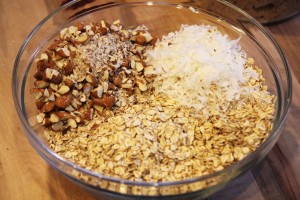 I don't know why I had never made granola before.  I guess sitting around and waiting for a hot deal on Quaker Granola cereal seemed easier than trying to make my own.
But this recipe is foolproof.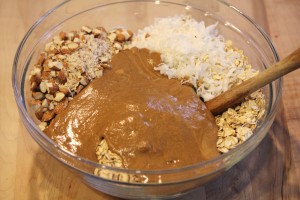 Seriously, you can do this.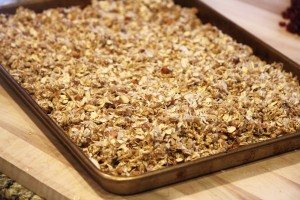 But I'm warning you… Once you make it, you'll be addicted.  Who knows, you may even start hugging trees, wearing Smart Wool socks and drinking herbal tea.  So if you turn into a total hippie after making homemade granola, don't blame me.  I warned you.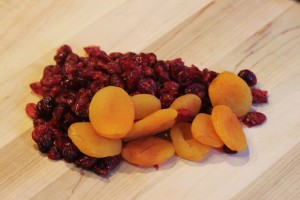 Every time I have made this granola recipe I have done something a little different. The first time I used cranberries and left out the almonds, the second time I used cranberries & sunflower seeds and this time around I used cranberries, apricots and omitted the salt.  Perfect-O!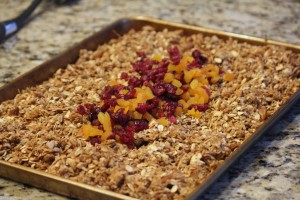 How to make Granola.
5 cups rolled oats
1 cup chopped almonds
1 cup coconut
1/3 cup brown sugar
1/3 cup honey
1/2 cup creamy peanut butter
1 cup dried cranberries
1/2 cup dried apricots, chopped
In a large bowl toss the oats, nuts and coconut together. Combine the brown sugar, honey, and peanut butter in a small saucepan over medium heat until creamy {about 2 minutes}. Pour the peanut butter mixture over the oat mixture and stir to combine. Pour the mixture onto a lined cookie sheet {I used a silpat} and bake at 250 degrees for about 60. Stir every fifteen minutes so the mixture does not burn. Cool to room temperature, add dried fruit and hide the granola goodness in an airtight container. Ration accordingly.  Recipe Credit
Gorgeous Granola: The Ultimate Collection of the World's Finest Granola Recipes
{Free if you have Amazon Prime}