Friday Night at the Movies – Craigslist Joe
A HUGE thank you to Monique who let me know about the documentary Craigslist Joe. We watched this documentary last night and LOVED it.
"Armed with only a laptop, cell phone, toothbrush, and the clothes on his back – alongside the hope that community was not gone but just had shifted – Joe lived for a month looking for alms in America's new town square: Craigslist.
For 31 December days and nights, everything in his life would come from the Craigslist website. From transportation to food, from shelter to companionship, Joe would depend on the generosity of people who had never seen him and whose sole connection to him was a giant virtual swap meet."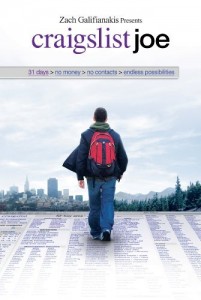 Amazon Instant Video has it for $3.99 if you want to watch it.
Have  a great weekend,
Mavis