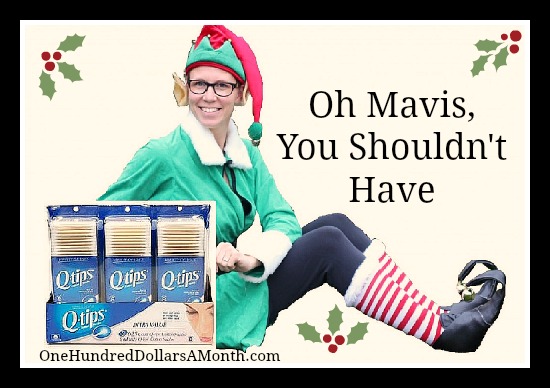 How would you like to win a package of 1,875 Q-Tips?  C'mon, you know you totally want them.
Amazon has a sweet deal on Q-Tips right now 1,875 Q-Tips for only $10.44* shipped when you use the subscribe and save option at check out.  I just ordered some using some of my Swagbucks credit and I thought I'd give 2 lucky One Hundred Dollars a Month readers a pack of Q-Tips as well.
I know, I know, It's a little weird, but just think, if you win, every time you use one you'll be like "Oh Mavis, you should't have."  And then you'll smile and think of me. Ahhh, isn't life awesome.
 Here is how to enter to win 1,875 Q-Tips
All you have to do to enter this giveaway is leave a comment below and let us know what the strangest thing you have ever received for a Christmas,  Hanukkah, or Kwanzaa gift was.  Don't celebrate?  That's okay, you can just let us know if you have ever seen an armadillo in real life before.
Rules
1 entry per person/ip address.  If you cheat, you will totally be disqualified.
This giveaway ends 12/7/12 @ 5 am PST and the winners will be announced in the 12/ 7/12 edition of Mornings with Mavis.
Good Luck, I hope you win!
 ♥

 Mavis

*Direct link to an Amazon.com product

This post may contain affiliate links. These affiliate links help support this site. For more information, please see my disclosure policy. Thank you for supporting One Hundred Dollars a Month.