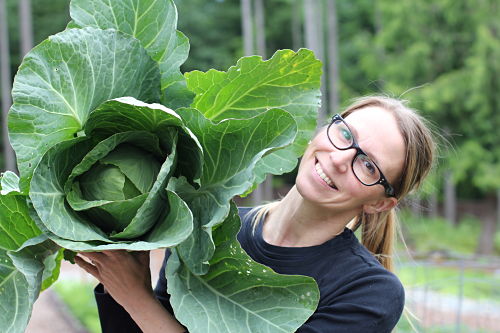 Hi, I'm Mavis. I garden. I cook. I garden. I babysit chickens. I garden. I clip the occasional coupon. Did I mention I garden?
This year I'm on a mission to grow 2,000 4,000 pounds of fresh fruits and vegetables in my backyard.  That's 2 TONS of food!
Have I lost my mind? Probably. But what else is a bored housewife living in high maintenance suburbia supposed to do? Oh I suppose I could kill time at the tanning salon or blow my money at a wine bar, but I'd rather squirrel it away for something cooler (filling your passport with stamps, anyone?).
I'm not on this mission alone. I'm dragging my Handsome Husband, my daughter (The Girl Who Thinks She's a Bird), my son (Monkey Boy), a slew (a gaggle? a flock?) of chickens and my adorable Puggle Dog, Lucy, along for the ride.  I also occasionally rope in my friends and neighbors (who've all suspected I lost my mind years ago, so they don't even roll their eyes at me when I tell them what crazy plan I'm hatching next). Never a dull moment around here. Promise. Here are a few links to some recent media appearances.
Through the use of coupons, bartering, and my mad gardening skills, I've been able to shave a ridiculous amount of money off my family's grocery budget over the last 5 years.
In 2008 I spent $9,768 on groceries.  An average of $814 a month.
In 2009 I spent $7,584 on groceries.  An average of $632 a month.
In 2010 I spent $5,004 on groceries.  An average of $417 a month.
In 2011 I spent $1,198.64 on groceries. An average of $100 a month.
In 2012 I spent $1,195.67 on groceries. An average of $100 a month.
In 2013 I spent $2192.32 on groceries. An average of $182.69 a month.
In 2014 I spent $1907.34 on groceries. An average of $158.95 a month.
We might have drastically chopped our spending each month, but we still eat real food and so can you.  You just have to pull out a calculator and be prepared to put in a little extra time and effort.  Saving money and gardening are not rocket science. You just have to have discipline and be willing to roll up your sleeves a little bit.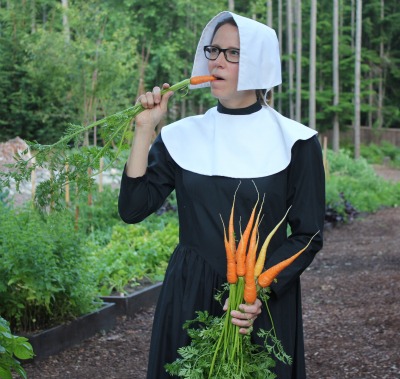 Trust me, if the pilgrims could do it, you can too!
~Mavis
F