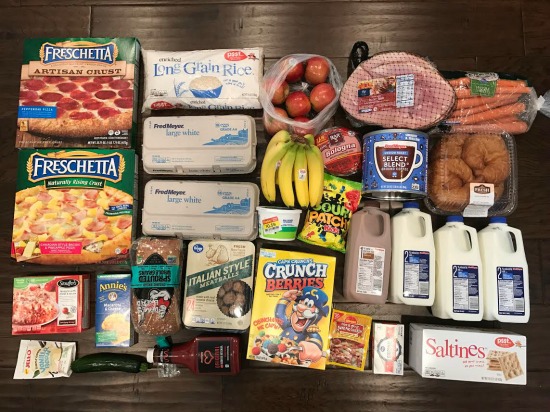 Fred Meyer $54.57 after iBotta rebates and FM ecoupons
After not leaving the house for an entire week I decided to stock up on a bunch of groceries. Not because we were out of everything {although all our fresh fruits and veggies were nearly gone} but I had so much fun staying put for 7 days… I may want to do it again. 😉
Some of my favorite deals from Fred Meyer: Milk $0.99 a half gallon, Saltines $0.99, Dave's Bread $0.94 after FM ecoupon and ibotta rebate, 18 count eggs $1.78, ham $0.99 lb, Gala apples $0.99 lb.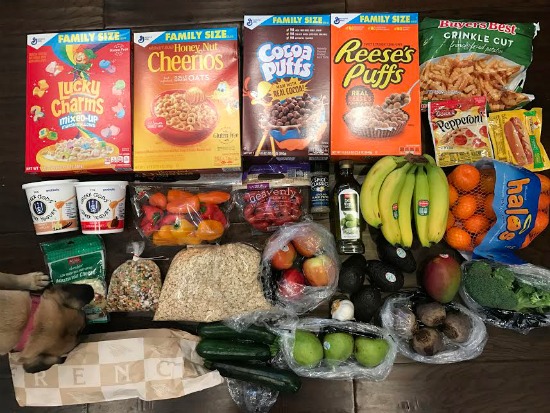 Winco $46.05
Oh Winco. I love your prices. Seriously. I totally get bummed out when I see the prices at other stores. Although I do the occasional iBotta rebate here and there, I rarely use coupons.
Greek Gods Yogurt $2.64 each, Avocados $0.88, Zucchini $0.78 lb, Mango $0.78, Gala Apples $0.98, Pears $0.98, Clementines 3 pounds $3.98, Big Boxes of General Mills cereal $1.99 after iBotta rebate, Beets $0.98 lb, Oatmeal $0.61 lb, Turkey hot dogs $0.98, French Fries $0.99, Pepperoni $1.78.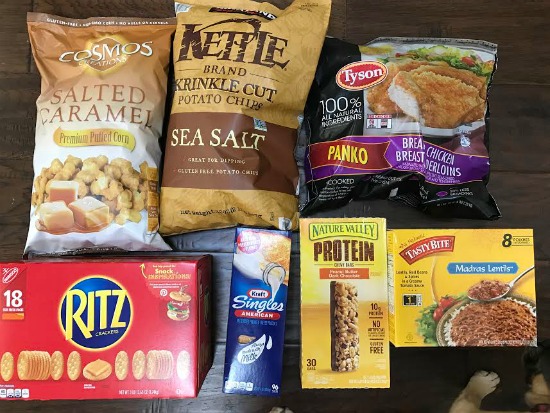 Costco $27.02 after $25 Costco rebate check
I went to Costco with Mrs. HB last week to pick up a few of their mailer specials and pretty much came out of the store thinking what I always do…. Costco is great for buying large quantities of food. It's convenient. The produce is always fresh and there's always something new to try.
But….
Aside from the occasional deal, it's rarely ever a bargain. And even when it is a bargain, I always end up asking myself do I really need that much?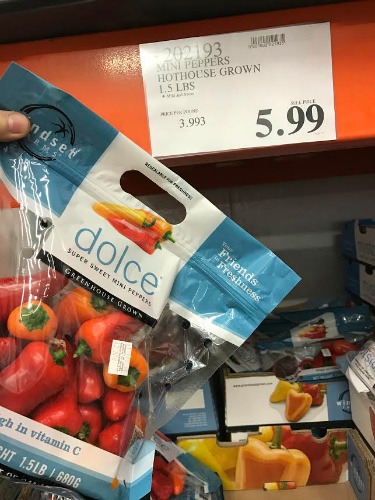 Take this bag of mini peppers for instance. Costco is selling the 1.5 pound bag for $5.99. I bought a 1 pound bag of mini peppers at Winco for $1.99. So essentially Costco is DOUBLE.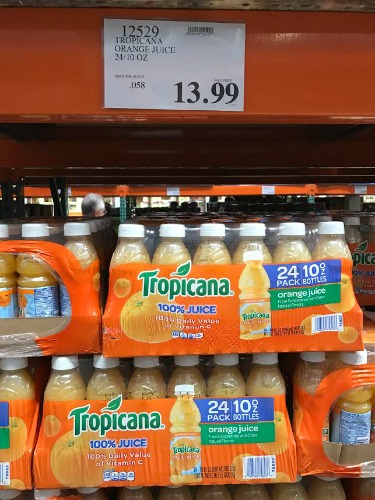 Tropicana orange juice. Costco has it for $13.99.  I can usually find it on Amazon for $11.99. Shipped to my front door.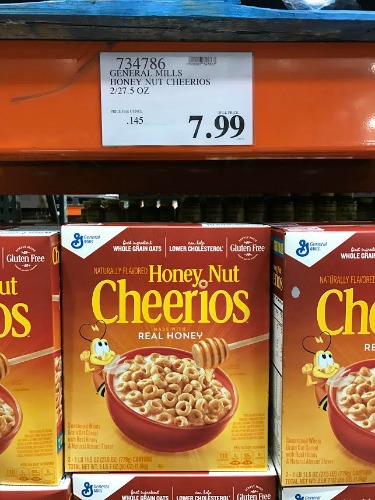 Big boxes of Cereal. Seriously. This can almost always be found on special at the grocery store for less than Costco is selling it. This week Winco has the big boxes on sale for $2.99, plus there is a $1.00 off iBotta rebate which then brings the price out of pocket to $1.99 a box. 2 big boxes, 2 rebates $3.98 instead of Costco's $7.99.
Fact: Even though my parents gifted us a Costco membership last Christmas, I have not renewed my card yet. It wasn't something I really planned out. It just sort of happened. On weeks that I tag along with HB to grocery shop and make freezer meals I bring a little cash in case there is something I want to buy. But for the most part, I'm totally over buying large amounts of stuff…
1. I really don't need
2. When I crunch the numbers… really isn't a bargain.
Like I said before, YES you can find the occasional deal. But for the most part? I'll pass. I like being able to walk into a store and buy exactly what I went there for and not have to look at a bunch of stuff I don't need. The more you linger… the more you spend. And honestly, I have better things to do then to try and talk myself into products that weren't on my radar in the first place.
That probably sounds really negative. But it's true.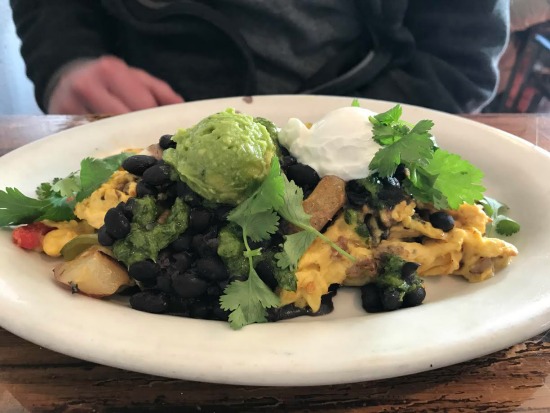 Monthly dates with my husband…. Now that's something I enjoy. And I'm happy to spend money on.
How about YOU?
What do you enjoy spending your hard earned money on?
~Mavis
Total Spent This Week $130.64 Groceries, Take Out/Date Nights/Bakeries $30.02
Total Spent in January on Groceries $202.99
Total Spent in February on Groceries $143.94
Total Spent in March on Groceries $183.35
Total Spent in April on Groceries $205.67
Total Spent on Groceries in May $130.64
************
Total Spent in January on Take Out, Date Nights, and Bakery Treats $42.19
Total Spent in February on Take Out, Date Nights and Bakery Treats $118.45
Total Spent in March on Take Out, Date Nights and Bakery Treats $25.29
Total Spent in April on Take Out, Date Nights and Bakery Treats $62.50
Total Spent in May of Take Out, Date Nights and Bakery Treats $30.02
Go HERE to read more Shopping Trip Stories.
This post may contain affiliate links. These affiliate links help support this site. For more information, please see my disclosure policy. Thank you for supporting One Hundred Dollars a Month.