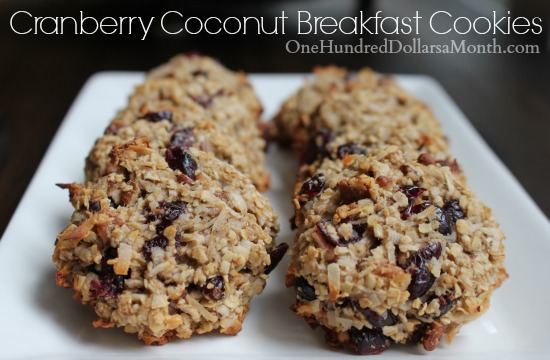 How can you say no to a breakfast cookie? Oatmeal, bananas, cranberries, coconut… those are all breakfast foods, right? Cookies for breakfast? Heck yeah I'll take two! 😉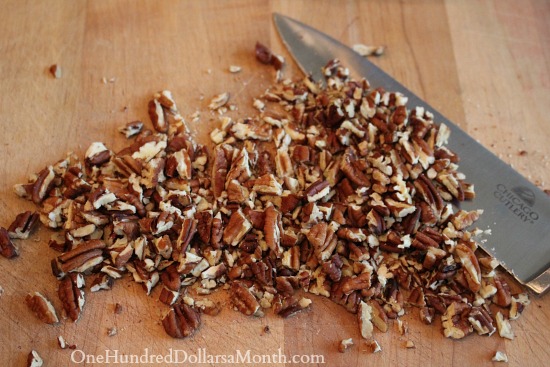 Ingredients
1 1/2 cups oats {I used quick}
3/4 cup unsweetened coconut flakes
1/2 teaspoon salt
3/4 cup pecans, chopped
1/2 cup dried cranberries
3 ripe bananas, mashed
1/4 cup coconut oil, melted
1 tablespoon agave
1 teaspoon vanilla extract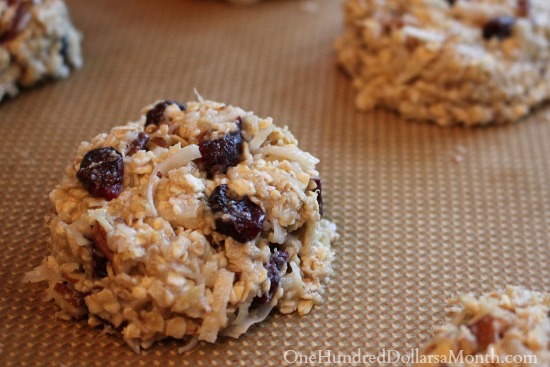 Directions
Preheat oven to 350 F.  In a medium mixing bowl, combine oats, coconut, salt, pecans, and cranberries. Mix in bananas, oil, agave nectar and vanilla and sit until well combined.
Using a 2 tablespoon cookie dough scoop, scoop balls of dough on to a cookie sheet. Press dough down slightly and bake for 20 minutes or until golden brown. Enjoy.
*Makes 2 dozen cookies
Looking to get your cookie fix? Check out more Cookie Recipes.
This post may contain affiliate links. These affiliate links help support this site. For more information, please see my disclosure policy. Thank you for supporting One Hundred Dollars a Month.