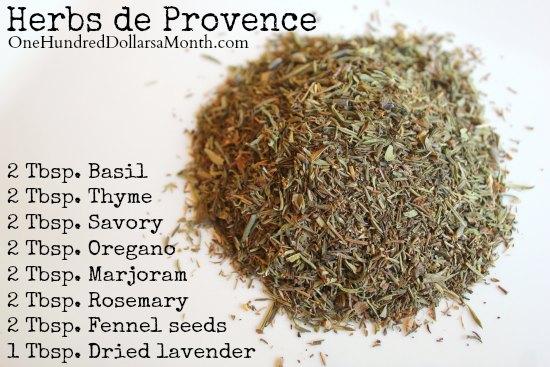 Herbs de Provence adds elegance to pretty much every dish.  It's a very unique mixture and flavor—which in my personal opinion is underused.  The problem is that buying it premixed is crazy expensive, so I usually just whip up my own.  It tastes fantastic on grilled chicken, and although we don't eat a ton of fish, it is yummy there too.
Savory Sun Dried Tomato Biscotti with Herbs de Provence is also delicious.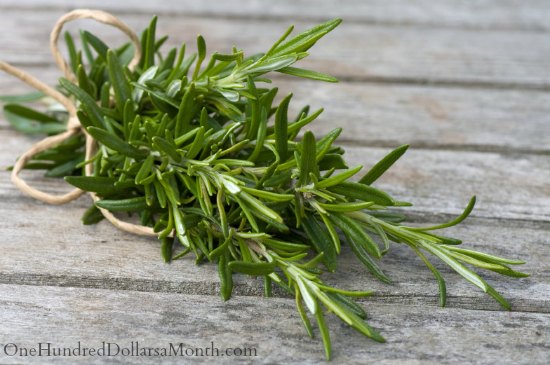 Ingredients
2 Tbsp. Basil
2 Tbsp. Thyme
2 Tbsp. Savory
2 Tbsp. Oregano
2 Tbsp. marjoram
2 Tbsp. Rosemary
2 Tbsp. Fennel seeds
1 Tbsp. Dried lavender
Directions
Mix all ingredients together thoroughly and store in an airtight container.
See More of My DIY Herb Mixes :
Italian Seasoning Mix
Pumpkin Pie Spice Mix
Allspice Mix
Fajita Spice Mix
Turkey Rub
Ranch Dressing and Dip Dry Mix
Taco Seasoning Mix
Apple Cider Mulling Spice
Hot Cocoa Mix
Old Bay Seasoning
DIY Cajun Spice Mix
Apple Pie Spice Mix
This post may contain affiliate links. These affiliate links help support this site. For more information, please see my disclosure policy. Thank you for supporting One Hundred Dollars a Month.