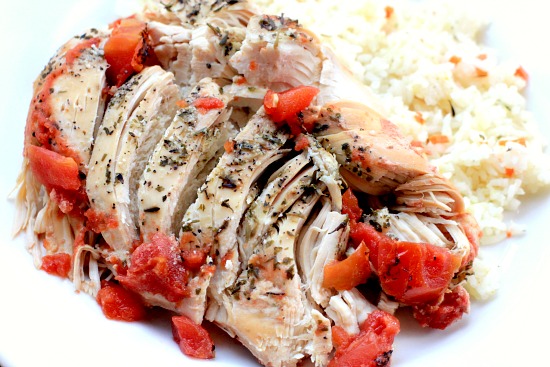 I don't know about you, but I love it when I only have to spend a whopping 5 minutes throwing dinner together. This chicken turned out unbelievably moist.
I hope you like it. We sure did.
Ingredients
3 boneless, skinless chicken breasts
1 15 oz can stewed tomatoes
4 cloves of garlic
1 teaspoon dried thyme
1 teaspoon parsley
1 teaspoon kosher salt
1/2 teaspoon pepper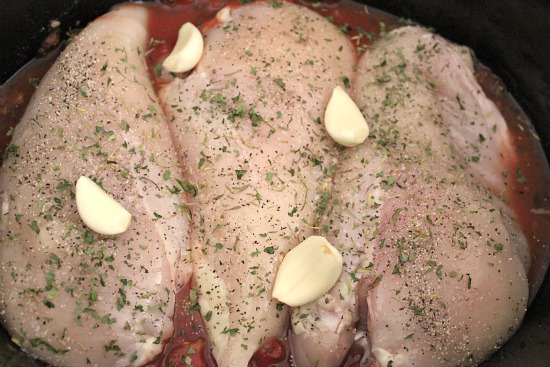 Directions
Place the stewed tomatoes in the bottom of the crock pot, add chicken, then spices. Cook on low for 5 hours or high for 3 hours. Serve over a bed of rice.  That's it! Wahooooo!
Are you in love with your crock pot too? Then be sure and check out more of my favorite crock pot recipes.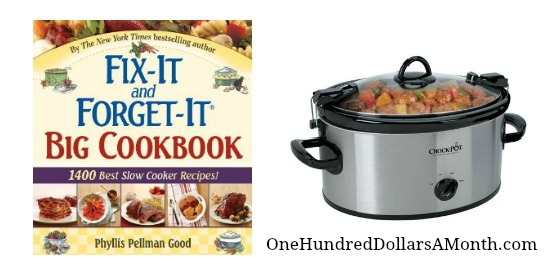 My favorite Crock Pot – Crock-Pot Cook' N Carry 6-Quart Portable Slow Cooker

My favorite Slow Cooker Cookbook – Fix-It and Forget-It Big Cookbook
This post may contain affiliate links. These affiliate links help support this site. For more information, please see my disclosure policy. Thank you for supporting One Hundred Dollars a Month.