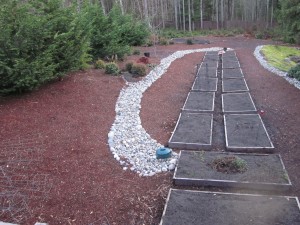 I thought it would be fun to document my garden progress this year through pictures.  I will try to photograph the garden from the same locations each month to capture the seasons as they unfold.  If you have a garden, I encourage you to do the same.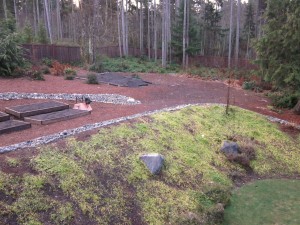 This year I will need to add more Vinca starts to the hillside.  I also plan on removing the heather plants.  When we first moved here I found heather plants on sale at the Home Depot for $2.50 each. At the time I thought it would be a great idea to line the edges of the grass with purple flowering heather.  Fast forward to a few years later, I now think they are ugly. The vinca plants have taken over and the border of the lawn on this side is a mess.
Towards the top of the photo on the left hand side you'll notice a rather large pile of dirt   The pile of dirt will be the site for this years squash patch.  I have not measured the space but it is quite substantial and I do plan on enlarging the area over the next few weeks to accommodate the numerous varieties of winter squash I want to grow this year.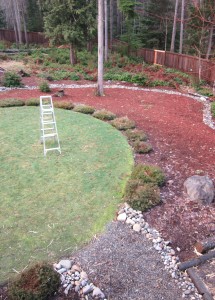 Again, I'll be removing the heather plants and replacing them with something else, although I'm not sure with what.
The only reason I took a photo at this location was because I'm debating on whether or not to plant a pumpkin patch within the confines of the neon orange barked area. I think it might be fun. Not to mention a pumpkin patch would be way better to look at than bark.  Especially once spring comes around and the Handsome Husband starts fertilizing the crack out of the lawn again like he does every year.  The soon to be techno green lawn mixed with the neon glow of orange bark might just be too much to handle.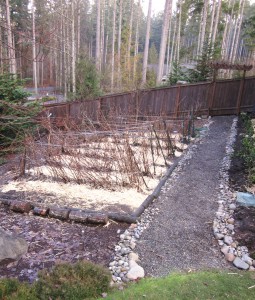 This is a photo of our raspberry patch.  To the right are strawberry plants and a row of bushes.  Sunflower seeds will be planted behind the bushes.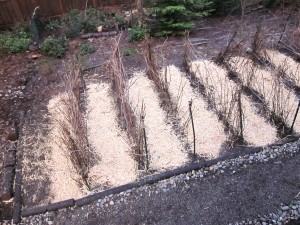 My plan for the raspberry patch this year is to plant beets and onions about 6 inches away from the raspberry canes in alternating rows.  I did this a few years back and it worked out really well.  Since this area was the chickens play ground these past 9 months, I expect to harvest some seriously large fruits and vegetables from this area soon.
How about you?
Have you started to plan this years garden yet?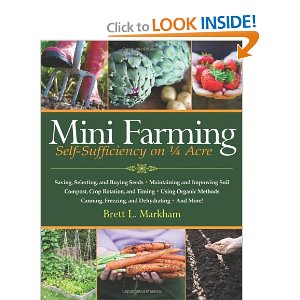 Mini Farming: Self-Sufficiency on 1/4 Acre
This post may contain affiliate links. These affiliate links help support this site. For more information, please see my disclosure policy. Thank you for supporting One Hundred Dollars a Month.