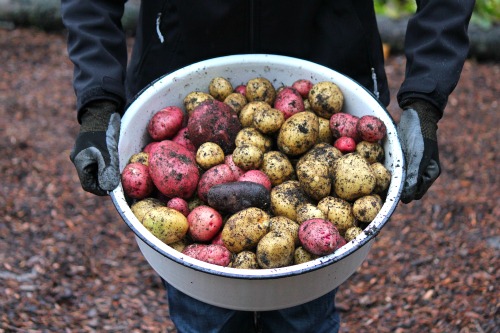 Okay, I have a question for you.  Do you think it's better to plant potatoes in the Spring or Fall?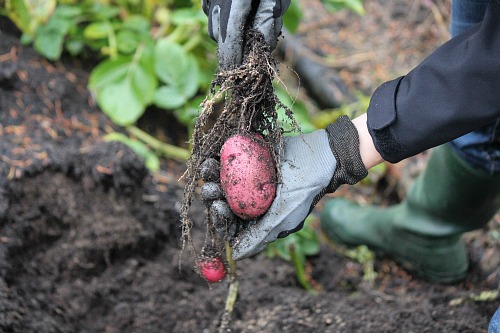 Judging by the size and quality of these late fall potatoes, I almost think it might be better to plant potatoes in the fall up here in Washington state.  I have never purposely tried growing potatoes in late August before, but this summer when the local nursery had their sacks of Spring potato starts on clearance, I grabbed 2 bags and planted them.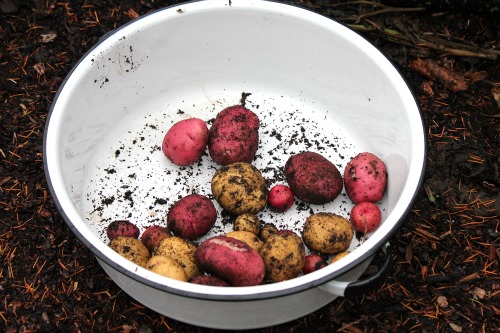 Yukon Gold and Red potatoes for fall and winter storage?  Heck ya!  I'm totally pumped with the size of these babies.  I thought for sure I'd totally end up with teensy tiny potatoes because they were not going to have enough time to grow.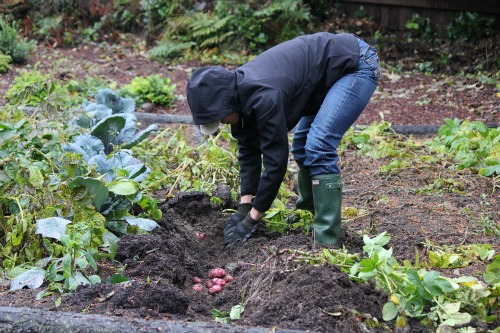 Well apparently I was wrong.
Not only do fall potatoes rock in my book, planting potatoes in trenches is 1 million and 52 times better than planting them in those stinkin' potato towers.
Now we will have plenty of taters for Crock Pot Corn Chowder, Fried Potatoes with Peppers and Zucchini, and Scalloped Potatoes all winter long.  Giddy Up!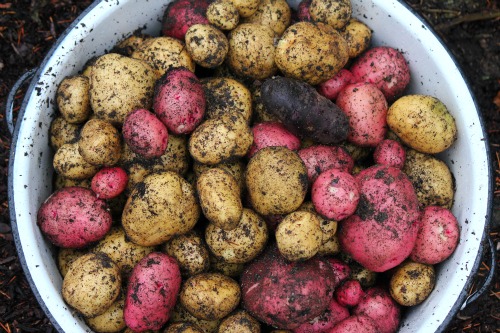 I'd like to here what you think about Spring vs. Fall potatoes.
Have YOU tried growing potatoes in the Spring and Fall before?  Which season do you think is best? Do you think this was a fluke, or is it possible to plant fall potatoes every year and have success?
~ Mavis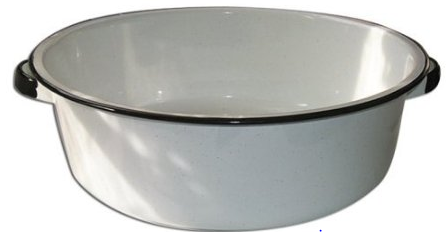 Looking for white enamelware?  Amazon has it currently in stock!
Granite Ware 15-Quart Dish Pan with Handles
$28.59
Granite Ware Stock Pots
Starting at $14.97
Granite Ware Open Saucepans Starting at $7.45
This post may contain affiliate links. These affiliate links help support this site. For more information, please see my disclosure policy. Thank you for supporting One Hundred Dollars a Month.