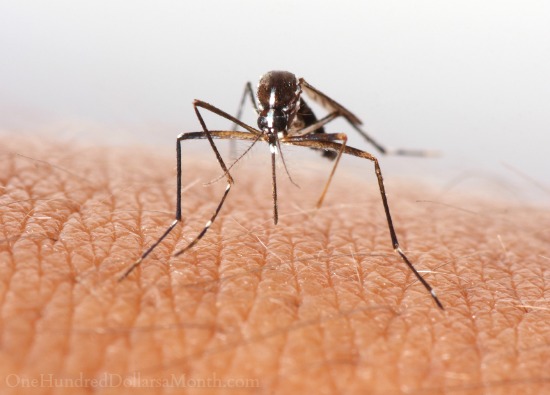 Mosquitoes love my skin.  Every summer, I feel like a human bug light.  I draw the mosquitoes in–in fact, I am a personal shield for anyone sitting next to me.  The mosquitoes flock to me and leave everyone else alone.  So, now with summer right around the corner, I have been trying to decide the best way to keep my skin skeeter-free.
I ran across an article on NPR a while back that ranked the effectiveness of different commercial applications.  The general consensus was that products containing DEET, Picardin, and/or IR3535 were the most effective.  Though, for the non-chemical route, oil of lemon eucalyptus seemed to do the trick pretty effectively too.  Funnily, Victoria Secret's perfume, Bombshell, has proven to be a pretty effective skeeter deterrent.  I personally have never been able to wear perfume–it drives me bonkers, so that one is out for me.
I could just cover up with clothing, avoiding chemicals altogether.  Loose clothing is best, according to experts in the NPR article.  Sorry active wear folks, but spandex is apparently mosquito friendly.  The little beggars have a pretty easy time of noshing right through those tight yoga pants.  Thick, tough fabrics, loose long sleeves and pants are best–which kind of sounds like a nightmare in the middle of summer, unless the nights cool off significantly.
Ultimately, the bites are a mere nuisance compared to the potential Zika virus the skeeters could pass on.  Flu-like symptoms in the middle of summer?  No, thank you.
So, I guess I'll consider this blog my own informal study…what do YOU use to keep the mosquitoes away?  How often do you re-apply?
~Mavis
This post may contain affiliate links. These affiliate links help support this site. For more information, please see my disclosure policy. Thank you for supporting One Hundred Dollars a Month.