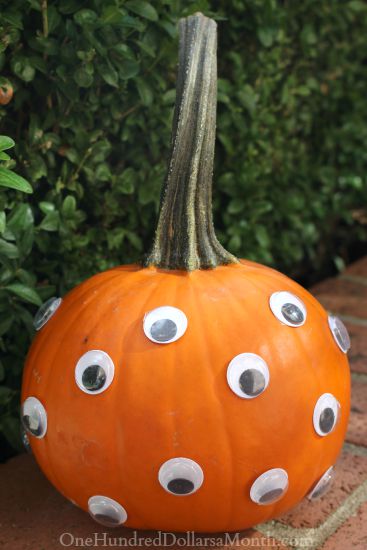 Easiest kid pumpkin project EVER. And pretty dang cheap, too. You can normally find both sugar pie pumpkins and googly eyes for $.99 at the dollar store or grocery store. It takes only 2 supplies and you're on your way to some Halloween decorations.
It had that creepy and cute sort of look. Like you can't decide if it really creeps you out or is adorable?! Best of all, once Halloween is over, you can peel the googly eyes off and bake or puree your pumpkin and make something delicious with it.
The kiddos can go nuts sticking googly eyes on it–making it a perfect little project for little hands. It's a Win-Win for everyone.
Check out some other fun Halloween ideas:
Happy Halloween,
Mavis
This post may contain affiliate links. These affiliate links help support this site. For more information, please see my disclosure policy. Thank you for supporting One Hundred Dollars a Month.