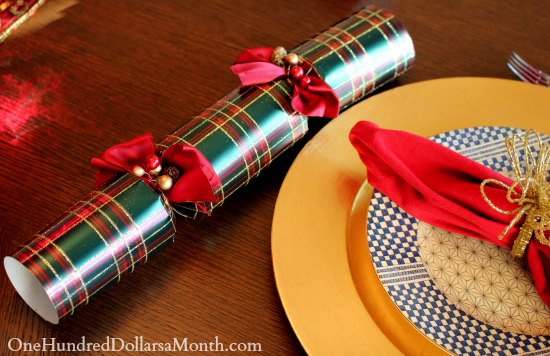 For as long as I can remember my Mother has always set out Christmas Crackers. My kids love it. There is always a paper crown. We all put paper crowns on our head, for the rest of the night, with pretty zero regard of our personal appearance.  The best part is that neither of my kids have ever acted "too cool" for it.  It's one of those traditions that will always bring up great memories—it's like 3 generations of silliness.
I've always wondered where Christmas Crackers even started.  This year, I decided to do a little learnin' and spread the love to you.  First, in case you have no idea what I am talking about, Christmas Crackers are little cardboard tubes, cinched on each end, so that they resemble a candy.  When you pull the ends, the make a little crack or popping sound, and inside there are little trinkets.  Like I said, we always get paper crowns, but I have heard that there are sometimes other little toys, jokes, etc.  The tradition of the cracker dates back to the 1840's.  It was primarily practiced in England, Ireland, Australia, and New Zealand.  They all started when an English candy maker named Tom Smith wanted to replicate French almonds wrapped in paper.  He combined the look of wrapped sweets with the sound of the crackling logs on his fire—and Christmas Crackers were born.   The crowns inside them are thought to come from a Roman tradition where people decorated their heads to celebrate Saturnalia.  Who would have guessed, right?
Do you have any family Christmas traditions like the Christmas Cracker?  Something you've never thought of the meaning, but always done?
~Mavis
This post may contain affiliate links. These affiliate links help support this site. For more information, please see my disclosure policy. Thank you for supporting One Hundred Dollars a Month.