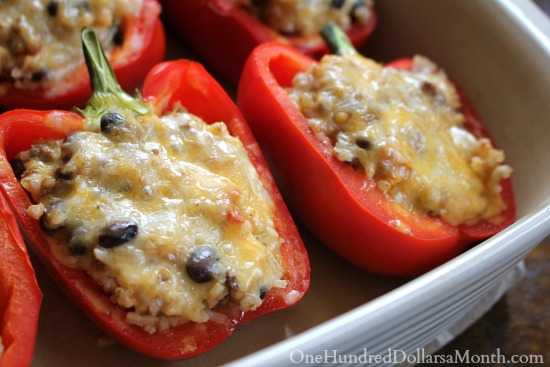 I made stuffed peppers with chicken once and the family gobbled them up, so I figured I would switch it up and try a different recipe. This one used ground beef instead, but it was just as big of a hit. I'm thinking we're officially a stuffed pepper loving family. Now I'm off to think about what else I can shove into a pepper and call dinner…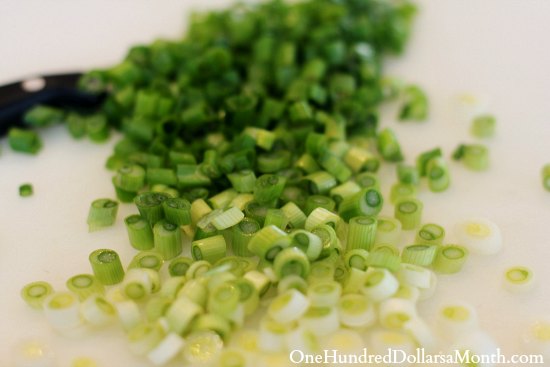 Ingredients
1 cup cooked white rice
4 green onions, white and green parts separated and thinly sliced
1/2 pound ground beef {I used  Zaycon beef}
1 cup frozen corn
1 can black beans, drained and rinsed
1 {4.5 oz} can chopped green chilies or 1 sweet pepper, chopped
1 teaspoon ground cumin
1 cup grated cheese {I used a blend of cheddar and mozzarella}
4 large sweet peppers, halved lengthwise, ribs and seeds removed
Salt and pepper to taste
1/2 cup sour cream {optional}
Directions
Heat oven to 375 F.  In a large skillet, brown beef with scallion whites about 5 minutes or until beef is cooked through. Stir in rice, corn, beans, chilies, cumin, 1/2 cup of the cheese, and salt and pepper to taste
Place bell peppers, cut-side up, in a 9×13 baking dish. Pour 1/2 cup of water into the bottom of the dish. Scoop beef mixture evenly into the bell peppers and tightly cover the dish with foil. Bake 35-40 minutes, or until peppers are soft. Uncover, sprinkle with the remaining cheese and bake an additional 5 minutes.
Top with sour cream and remaining green onions, and serve. Enjoy!
This post may contain affiliate links. These affiliate links help support this site. For more information, please see my disclosure policy. Thank you for supporting One Hundred Dollars a Month.