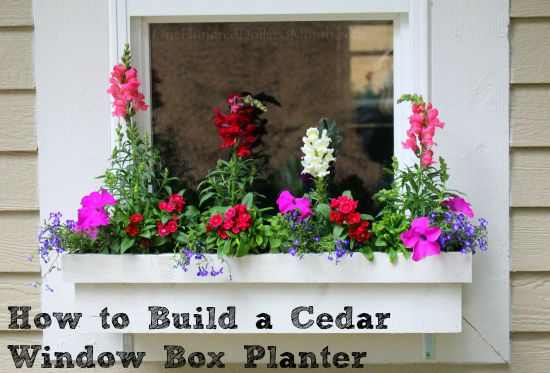 Last summer the HH and Monkey Boy built this fun little window box planter for me. As if I didn't have enough plants on the back patio. Ha! But truth be told, all my other containers are filled with vegetables, so it's nice to have something to be able to plant flowers in. All it takes is a few simple flowers to bring a pop of color to any landscape. This box made me so dang happy. Flowers have a tendency to do that to you.
This project is fairly simple as far as DIY projects go. It might just be the perfect project to add to your honey-do list for this spring.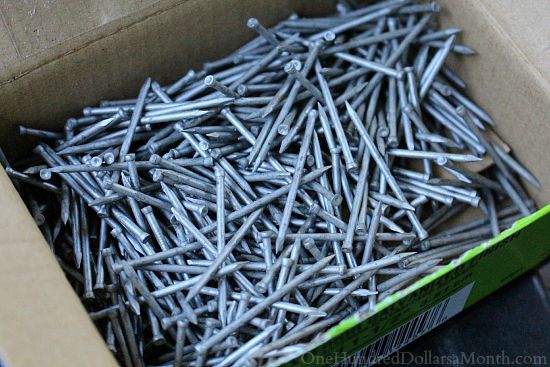 Supplies
Wood glue
(1) 5/8″ x 6″x 8′ cedar fence panel
(1) 1″x 2″x 6′ cedar board
Tape measure
Pencil
Power saw
Hammer
1 1/2″ galvanized finish nails
(2) L brackets
(4) 1″ galvanized screws
(4) 5/8″ galvanized screws
1″ spade drill bit
Drill
Sandpaper
Paint or stain (optional)
This project is for a 30″ window box. If you want to make one that's shorter or longer, simply cut two pieces of wood the same length for the front and back of the the desired box length. Cut two 5/8″x 6″x 30″ pieces of wood and set aside. Next, cut two 5 1/2″ x 5 1/2″ end pieces.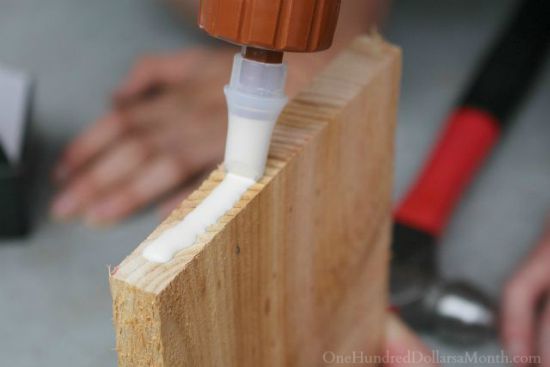 Apply wood glue to the ends of the 5 1/2″ x 5″1/2 end pieces.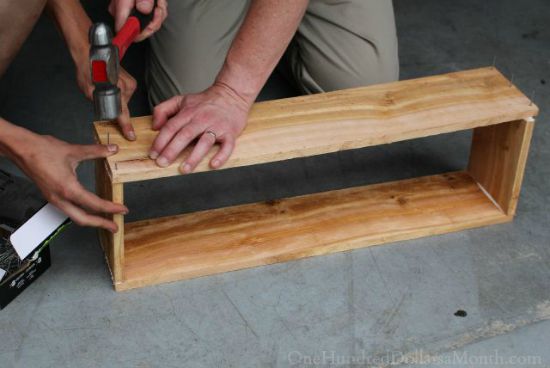 Using finish nails, attach the end pieces to the front and back boards.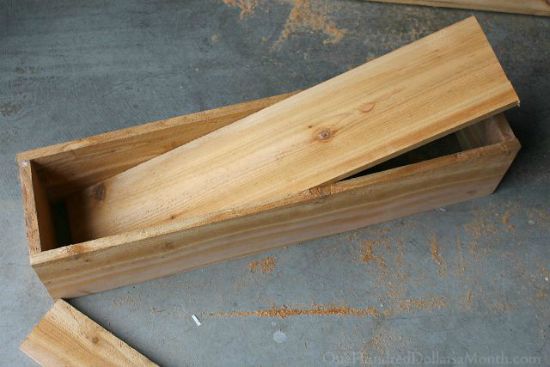 Measure the inside of your window box to get the exact measurement you need to cut for the bottom of the window box. For a 30″ window box you will need a 5/8″x 6″ x 27 3/8″ piece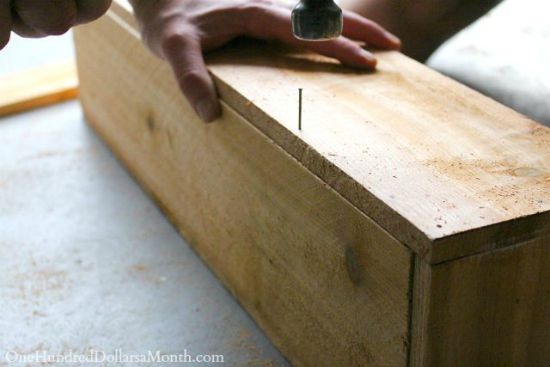 Using a hammer, tap the bottom piece of wood into your window box. Pound finish nails every four inches around the bottom of the window box to secure the bottom to the side and end panels.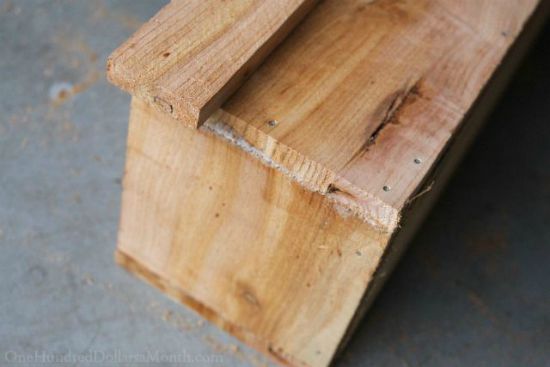 Once your box is constructed, it's time to cut your trim pieces. Cut (2) 1″x 2″ x 6 1/2″ and (1) 1″x 2″ x 30″ pieces for the sides and front of your window box.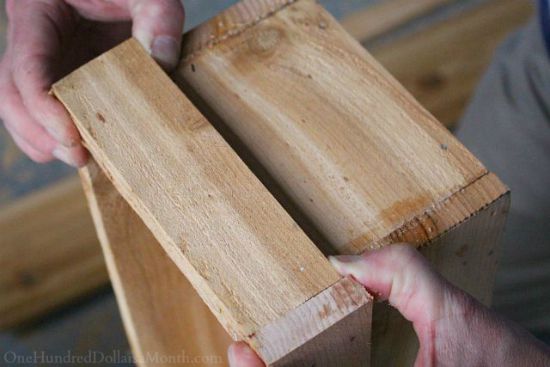 Apply wood glue to the bottom of the trim pieces. Then, using your finish nails and hammer, attach the sides first and then the front.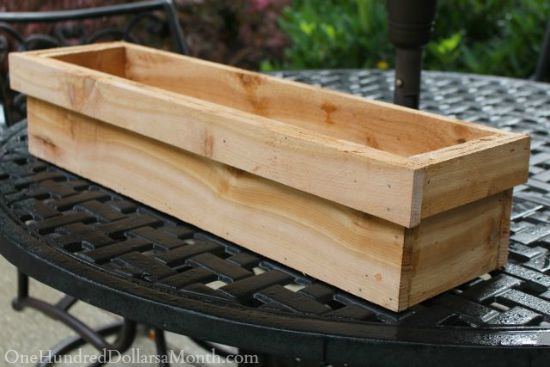 Using a medium grit sandpaper, sand the window box down a bit so the edges are not rough. Paint or stain the window box (if you want), and let it sit overnight to dry.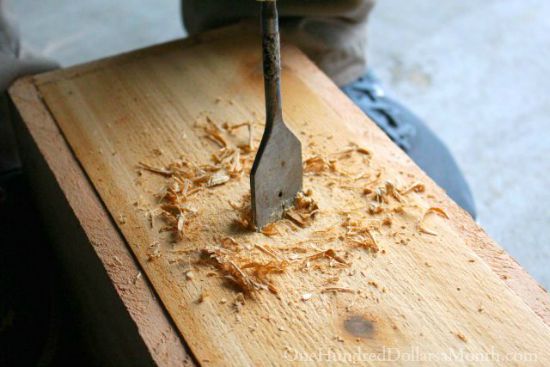 Using a drill and a 1″ spade drill bit, drill two holes into the bottom of the planter box.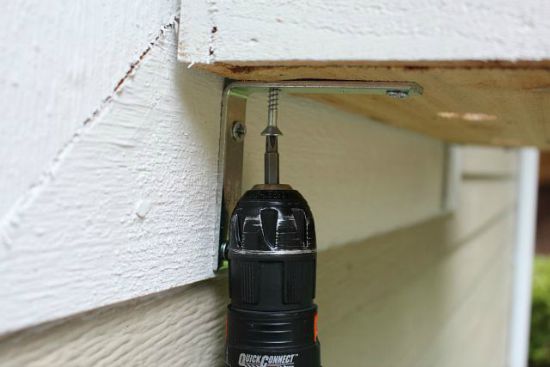 Attach the window planter box to your house just below the window using L brackets and 1 1/2″ galvanized screws to hold your window box securely in place. Drill 5/8″ screws into the bottom of your planter box to hold the L brackets into place.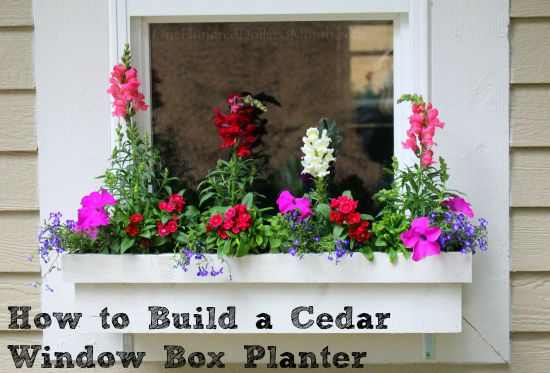 Plant with your favorite flowers, and step back and marvel at the amazing window box you just created. I am so in love with mine. And with just a tiny bit of elbow grease, I can now stare at these pretties for hours!
This post may contain affiliate links. These affiliate links help support this site. For more information, please see my disclosure policy. Thank you for supporting One Hundred Dollars a Month.