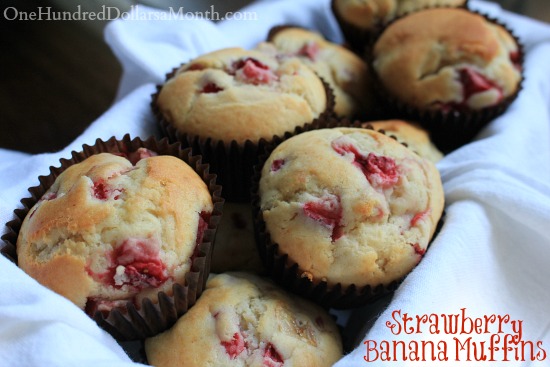 First strawberry crop of the season and it only took me 2 seconds to figure out what to do with them. I wanted to make some muffins anyway, so it made perfect sense to drop some fresh strawberries into my recipe. The results were pretty much heaven in a muffin tin. Yum!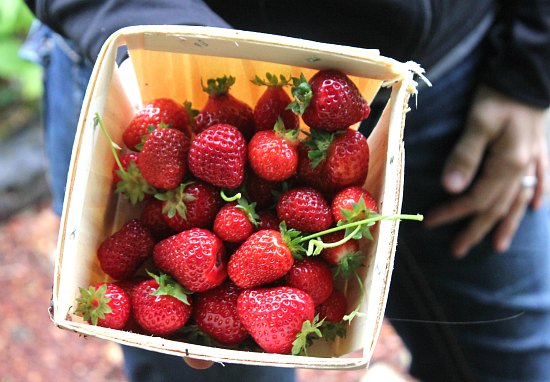 Ingredients
1/4 cup butter, melted
1/2 cup milk
1 large egg
1 3/4 cups flour
1/2 teaspoon salt
2 teaspoons baking powder
3/4 cup sugar
1 1/2 cups fresh strawberries, chopped into chunks
1 banana, sliced thin
Directions
Preheat oven to 375 F.  Line muffin tins with baking cups or grease tins with cooking spray.
In a small mixing bowl, beat butter, milk, and egg until combined. In a separate mixing bowl, combine flour, salt, baking powder, and sugar. Add the strawberries and bananas to the flour mixture and toss to coat. Pour milk mixture into the flour mixture and stir until combined.
If you have major OCD like me, use a 3 tablespoon cookie scoop to fill your muffin tins. If you don't, just fill the tins 2/3rd of the way full and bake for 25 to 30 minutes, or until browned. Enjoy!
This post may contain affiliate links. These affiliate links help support this site. For more information, please see my disclosure policy. Thank you for supporting One Hundred Dollars a Month.